Written Mirror's Writing Tips
Welcome to Written Mirror's writing tips. This is where we share what has worked from past experiences. These in turn will hopefully help you too. This article is written from the point of view of a storyteller. If you write in a different style, simply take what works and ignore the rest.
Without further ado, today we're looking at the anxiety inducing blank page…
How To Silence Blank Page Anxiety
Feeling intimidated by a blank page? Sat by the keyboard with no words coming out? Is your inspiration running low? Here are a few pointers to get you started.
Cast your fear aside and write whatever you like!
Empty everything from your mind onto the page.
Every 3-4 lines add 1-2 spaces.
Descriptions are fine; it all counts.
Think about any comparators and record what you would do differently.
Introduce your main character/plot…
Write down the problems/triumphs your character will go through.
Modify your environment.

Cast Your Fear/Anxiety Aside
We all have a perfect story/script/blog/poem in our head that we put off writing. We find the time for so many other things. Yes, I mean you, me and anyone you know that writes! From my own experience, I tend to find last minute excuses before starting a new project. I say to myself, "It won't be better than my last project, I'm clearly wasting my time…"

Empty Everything Onto The Page
The blank page is the enemy! I don't know about you, but I will not lie down and play dead for my enemies. Say it with me:
I WILL DEFEAT THIS PAGE!. I will populate it with reminders that I will not negotiate with negative thoughts! I'll start with one word, one sentence, one paragraph and later one page. I am the irresistible force; once I begin, I WILL NOT BE STOPPED!

Rhythmic Spacing
These spaces are for when you have unloaded everything you can and you need to review it. Your content will be a lot more coherent, allowing you to correct errors easier. In addition to that, you can track your progress quite easily. Flow is a lot more obvious i.e. what goes well and what doesn't. You will thank yourself for forward thinking here…
Descriptions Count
There are times when we do not have the dialogue or plot yet. What we do have is a vivid picture in our head. We know what things look like, the time of day, character gender, age, clothing, colouring etc. This information is essential. It will definitely serve as a trigger for more detail and content down the line. Don't be afraid to be as descriptive as possible. This is the meat and gravy of writing, painting a picture with words.
What I'll Do Differently
The perfect example to crystallise this J R R Tolkien vs. George R R Martin. They are similar but not the same. Tolkien was the measuring stick and the inspiration for Martin (He admits it himself). If you can notice the similarities in your content, you're not plagiarising, you are doing high-level analysis/research that will separate you from run of the mill Writers. You can note things you would change/omit and as a result, your execution will benefit greatly and set you apart.

Introduce Your Character/Story
This is more for the storytellers amongst us. However, this also applies to more general writing. If you have no descriptions or comparators in your thought stream, maybe what you have is the main character and or the story. In writer speak, the Protagonist/Antagonist and or the Plot/Setting. This is a good thing, as you can expand the content around these starting points organically. Dragon ball is a great example of a story that evolved into an iconic franchise from not much more than a character profile.

Conflict/Comedy
Following on from the Dragon ball example, the plot was a pure hearted, naïve/illiterate, young warrior (Goku) who loves to fight. How can that possibly work? What types of villains/rivals will he meet? How will they use his naïvety against him? How will he cope with them? What can he learn from them? Will he have a code? Can he be funny or will he be serious?
When your writing answers these questions, your story/piece gains exponentially. The pages will flow organically to serve this strong character/plot. Know your characters and know your plot! Write as much as you can on this and hopefully it will lead you into even more essential content.
Modify Your Environment
Here's some small changes you can implement immediately. Remove all time reminders (Clock/Watches/Phone) from your field of vision. You can try listening to music at a manageable volume. In addition to that, you can go through a deep breathing routine (lessens anxiety).  Try bouncing a ball intermittently between sentences/paragraphs. You need to remove as many outside influences from your process as possible. Thinking of a deadline might stress you and stifle your creativity. The same goes for looking at the amount of time you have spent/left. This often goes unsaid, but keeping your environment tidy might also help. Have your refreshments close by; you won't regret it when you're in full flow…

More Ways of Quieting Blank Page Anxiety…
Do you have any methods for quieting blank page anxiety? Share them in the comments below! You've read this but you don't write personally? You know someone that does? Share this post with them…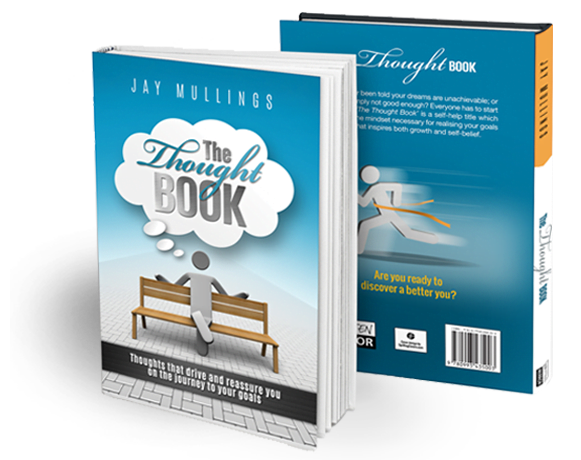 Check out 'The Thought Book' in the Written Mirror store. It serves as a worthwhile guide on the path to achieving your goals…
http://writtenmirror.com/shop/