A Fight Against Time Pt.1: A Lack of Resources, Cancer & A Last Minute Opponent…
by Jay Mullings
Greetings…
Greetings and salutations to one and all. If my opening is not the one you  usually come to expect from me, I can only apologise. You see I need your help, and need it urgently.
La Familia
It has come to my attention over the past few weeks; that one of my youngest relatives (2 y.o.) based in Jamaica, Peter Mullings Jr or 'PJ' as he's affectionately known, is in dire need of specialised treatment for cancer. Whilst the hospitals in Jamaica have done their very best and we thank them for that. PJ is now in need of treatment overseas, i.e U.S.A. 

As you can imagine this is a very expensive endeavour; and despite the brave, selfless efforts of my fighting relative and PJ's Uncle, Sakima 'Mr Smooth' Mullings, who has donated his entire purse from his last fight; sadly it is not enough on its own to see this through. 
The need for timely intervention is clear, and it is with this in mind that both PJ's Parents and Sakima have decided to share with you what it has been like dealing with this tragic situation.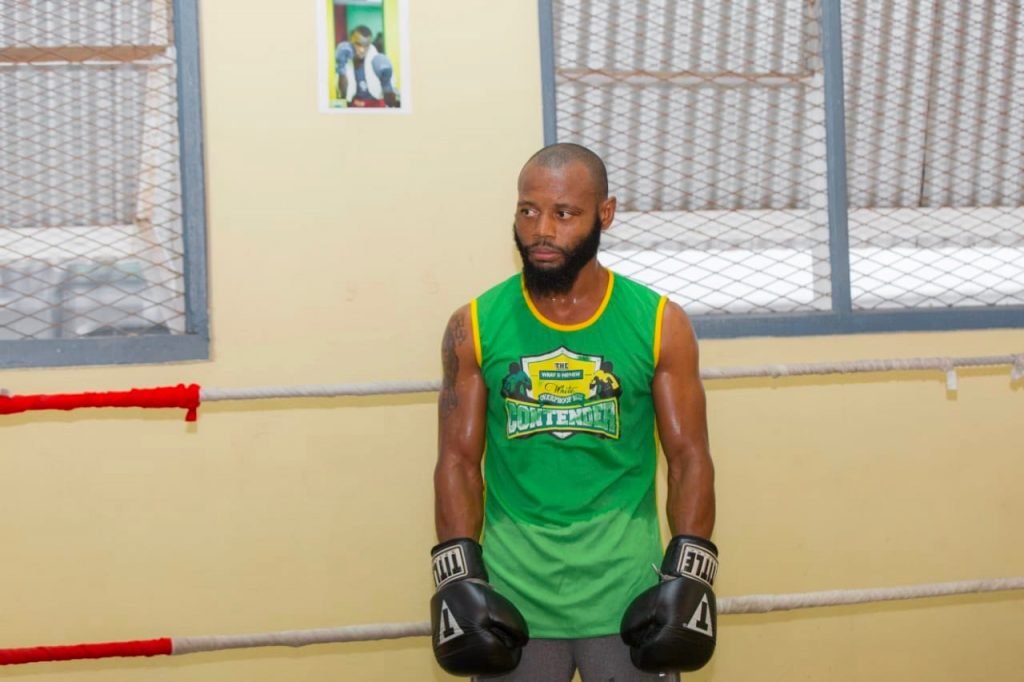 Welcome To Written Mirror!
JM: Hello Sakima! How have you been?
SM: In a word, BETTER! What about you?
JM: Thank you for asking, I have also been better. A lot is going on, but nothing as serious as what you have on your plate right now. Tell me what it's been like.
SM: Well to be honest, it's like a whirlwind of thoughts, emotions and a rollercoaster of highs and lows all in one.
JM: I can only imagine, how did you manage to train and fight with this all going on around you?
Country, Honour, Pride
SM: It's like when you drive a car all the time, that's how I deal with the fight game. It's ingrained in a way that doesn't need me to really think about doing it, I just do it!
JM: Alright that's fair, allow me to rephrase that slightly. How did training go?
SM: It wasn't ideal, on a personal, physical or financial level. My little nephew needed overseas treatment and it wasn't there for me financially to just take it all on and as a fighter that frustrated me. I fight for family, it's not just a T-shirt I wear. My commitments outside of the ring included two new business ventures (Start-ups) and they also require a level of oversight from me. As for the physical side of things? I was dealing with a few injuries that slowed down my training. I had to take some time to heal. 
JM: Wow! That's an immense amount of mental strain. I can somewhat relate to new ventures overlapping with and sometimes taking over core business but then to have someone else's longevity in the balance is a different level altogether. What was your overriding thought pattern throughout this time?
The Fight Within
SM: It was a huge mental strain but, my priority was to support my family through a challenging period. Like I said before the fight game is somewhat natural to me, so I knew I needed to stay visible for the fight loving fans in Jamaica. That meant taking a fight with 2 weeks notice…
JM: Now I'm really intrigued. You weren't thinking 2 weeks isn't enough time to get healed 100% and ready to fight? What about your safety were you worried about that?
SM: Fighting is what I know and I've taken short notice fights before. I feel no fear in the ring! If being a dog is required that's what I'd become! Also Contender Finals week? PJ needed that and I wasn't going to let him down!
JM: You have the heart of a Maroon! Let me find out Cudjoe is your middle name!
SM: (Laughs) I'm glad you didn't say Spartan! We have our own heroes and influences right here in Jamaica!
You're Hired! When Can You Start?
JM: Okay, I'm sorry (Not really it's my job) to keep coming back to the finer points of being ready; but tell me, how do you prepare for a fight in 2 weeks? I wouldn't even take a new job on two weeks notice!
SM: On the practical side of things, I had to lower the intensity of my sparring and give myself the most amount of time to heal and focus on the job ahead. This fight needed to be finished quickly and clinically. I worked on timing and keeping my breathing relaxed. Funny enough, my friend needed a favour from me, so for a while I was filling in as a Personal Trainer covering classes like Boxercise and pad work etc. So my hand eye coordination was already where I needed it to be and my overall fitness was pretty good. Diet and hydration was definitely something I paid strict attention to.
The Result…
JM: How did it go in the end?
SM: I was a little disappointed, I got the win, but, I wanted to give the fans a really entertaining fight. The other guy wanted to get out of it. You know, he wasn't really engaging…
JM: Congratulations! Must be nice having your hand raised at the end! Did The Contender back your appeal for funding towards PJ's care? 
SM: All respect due to The Contender; but outside of my purse and the opportunity to fight, no. However, I prefer to think of the positives and the exposure was definitely welcome. I was also interviewed by Leighton Levy on SportsMax, Lori Johnson from Flow Sports as well as Livingston Scott from The Gleaner. They gave me a platform to spread awareness for PJ, I'd like to thank them for caring enough to do so. 
JM: I respect the hell out of that response! Big up to The Wray & Nephew Contender, SportsMax, Flow Sports and The Gleaner. Anyone else you would like to thank Sakima?
SM: No doubt! My team and my trainers who got me ready for the fight at short notice. The fight loving fans of Jamaica and last but not least Wendy McMaster! This lady has been a key contributor in raising awareness for PJ. It's not my place to tell you all she has done behind the scenes; but Wendy has been first class all the way. She has really come through for my family. I'd like to acknowledge the beautiful acts of kindness she has continued to provide…
Please Come Back
JM: Listen man it's a shame that these are the circumstances under which you make your Written Mirror debut; but I mean this when I say you're more than welcome to come back anytime…
SM: No doubt! 
JM: Before you go! How can people reach and follow your socials etc.
SM: Instagram is @sakimamullings Facebook: Sakima Mullings 
Thanks for having me and if anyone is able to donate I'm going to leave the details with Jay…
JM: Please do!
Your Donations Count
The cost to potentially save PJ's life stands at (US) $42K. Anything you, your company, relatives or friends can do is most welcome as PJ is not going to get the treatment he needs without it…
Any and all help for PJ is absolutely welcome, whether big or small. For monetary donations: Karlene Ferron Jamaica National (JN): 10833541 and National Commercial Bank (NCB): 674140789. Gofundme: https://www.gofundme.com/wilms-cancer-for-pj
Part 2 of this article is coming up next: https://writtenmirror.com/a-fight-against-time-pt-2-a-lack-of-resources-cancer-a-last-minute-opponent/